Digital Multimeter VC890D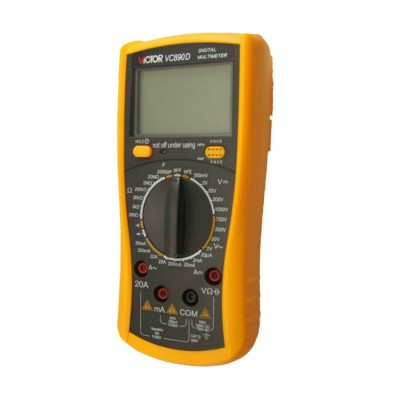 Shipping Estimate
DHL | China Post | Deutsche Post | Swiss Post | UPS | EMS
VC890D is a stable multimeter with 25mm LCD display, driven by battery. It's widely used on measuring DCV, ACV, DCA, ACA, resistance, capacitance, diode, transistor, and continuity test. It's an ideal tool for lab, factory and family.
·New type holster, streamline design.
·Large LCD makes the reading clearly.
·Metallic screen board with stronger antimagnetic and anti-interferential function.
·Full function protection, anti-high voltage circuit design.
Package content:
Battery x1
Test Leads x1
Multimeter x1
Basic Function

Range

Basic accuracy

DC Voltage

200mV/2V/20V/200V/1000V

±(0.5%+3)

AC Voltage

2V/20V/200V/750V

±(0.8%+5)

DC Current

20uA/2mA/200mA/20A

±(0.8%+10)

200uA/20mA/200mA/20A

 

AC Current

2mA/200mA/20A

±(1.0%+15)

20mA/200mA/20A

 

Resistance

200Ω/2kΩ/20kΩ/200kΩ /2MΩ/20MΩ

±(0.8%+3)

200Ω/2kΩ/20kΩ/200kΩ/20MΩ

 

Capacitance

20nF/2uF/200uF

±(2.5%+20)

Celsius

(-40~1000)℃

 
Special Function

Diode

√

Transistor

√

Continuity buzzer

√

Low battery indication

√

Data Hold

√

Auto power off

√

Function protection

√

Restorable fuse protection

√

Shockproof protection

√

Input impedance

10МΩ

Sampling rate

3 times/s

AC Frequency response

40~400Hz

Operation way

Manual range

Max. Display

1999

LCD size

55×43mm

Battery

9V (6F22)

Product color

Case: dark gray; Holster color:yellow

Product Net Weight

Approx:270g

Product Dimension

168×87×47mm

Standard Accessories

Test leads、battery、instruction manual、TP01

temperature probe(with temperature function)、Testing accessories

Standard inner packing

Color box

Standard Quantity Per Carton

30 pcs

Carton size

405×350×450mm

Standard Gross Weight

Approx:25kg
Download: